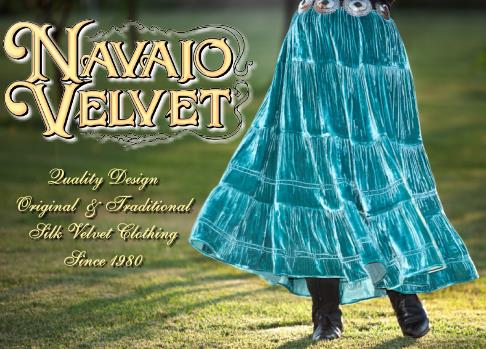 Our original Navajo Velvet Skirts!
Thank You for visiting!
Patience please while we update as much as we can~
most current update in Sept. 2022

Scroll down for our Traditional Navajo Skirt Gallery.
We hope you enjoy seeing them in action to help choose your own best length and color, click the images for larger versions.
When you do it is easy to select the length you desire and then call us for available colors.
We offer 3 basic lengths; Mini, Tea, or Long in any available color.
(Tea length pictured above, turqoise color is currently unavailable)
Mini length standard is 18 inches- $125
Tea length standard is 27 inches- $230
Long standard length is 36 inches- $285
Please place orders by calling us on the phone.
Our garments are made to order and we need your measurements to insure there are no returns.


| | | | |
| --- | --- | --- | --- |
| Wanda, 87, proves that the Navajo skirt holds its beauty regardless of your generation. She captures the spirit of the Navajo Grandmother in this traditional full length skirt, shown here in Forest Green. | Shown here in Royal Blue, our 18" Navajo Mini is prized for its versatility. Designed to last, good in spring summer and fall. | Active young Natalie shows the youth and vitality of the cut in our Navajo Mini, wearing her favorite color Forest Green. | Jalna, taking her inspiration from our sisters south of the border, wears her favorite peasant blouse with a chocolate velvet Navajo Tea length skirt. |

Everything you want to be sophisticated yet unpretentious. Your favorite jacket and your classic western skirt will serve you well for business or dinner out. Shown in Red Wine color.

Emily shows us how diverse the Tea length Navajo Skirt can be when you throw on your boots for a day at the ranch, in Moss Green.



Starlite shows that wearing Navajo Velvet does not limit you to cooler seasons.
Our Purple Silk Velvet Tea length Skirt is so light and breathable it transcends all your summer expectations, here in.


Natalie, 15, is wearing our Navajo Tea length skirt in Sagebrush. Our skirts can be combined with a simple white cotton blouse that creates a look that easily spans all ages.

Rebecca, a plus size, creates a classy look and fends off chilly autumn days with our full length Navajo Skirt, and a cozy sweater. Showing Rosewood color

Starlite interprets the Navajo Skirt in distinct Western Style, with her Black Skirt and a pearl snapped shirt, this look is perfect for Ranch Wear.

No hibernating for this skirt! Sherry Lou reminds us how a full length
Antique Rose Navajo Skirt will carry you through every season.

Romance, Motherhood, the Farm, velvet in pastel, far more feminine than most.
Starlite models her Navajo Skirt holding her youngest, Chloe 13 months. Skirt shown in Sage Green.

As an alternative to the Saloon Girl style, Abigail at 5'2" is seen here in this classic, free flowing 36" skirt that will last well into adulthood. Our Navajo skirt blends style and sophistication for a traditional western look, here in Chocolate Brown.

Sherry Lou reaches into her closet and grabs her denim blouse showing this full length skirt is a staple of every woman's wardrobe.
Shown here in Gold, reminds us that whether your plans include a Rodeo or a night on the town, the Navajo Skirt can be dressed up, or down for any occasion.

What you need for Holiday Shopping, a warm sweater, and a beautiful Velvet Skirt. Luxurious yet practical, Jalna is ready in her Cinnamon Velvet Skirt.


A classic that will never go out of style, Rebecca pairs her Purple Velvet Skirt, with her denim jacket. Comfortable, yet always stylish!

Easily paired with your favorite cotton print, Starlite demonstrates how readily our Navajo Skirt blends into your casual day to day wear in our Teal color.

A skirt with Holiday Spirit in burgundy, Sherry Lou adds a blazer and her favorite jewelry to mix Comfort and Class. What more could you want for that special party?

Jalna, an active mother who enjoys the outdoors, simply adds a jacket to our Bronze Navajo Skirt and creates an attractive yet comfortable outfit, perfect for crisp Autumn days.

Click all our pix to get better views!
Our color chart of sorts available
please click HERE!
Mini length standard is 18 inches- $125
Tea length standard is 27 inches- $230
Long standard length is 36 inches- $285
One size fits all waists. When the original order is placed,
there is no cost for adjusting the waist or shortening the length.
For lengthening the body of the skirt we charge $5 an inch. Please call to place your custom order.
All three basic lengths are available in any of our colors, please see our Color Page for current samples.
If you need help with please call;
(541) 659-1111
Remember time zone difference when calling to Pacific Northwest America.
Back to Top

Home | Clothing | Colors Page | Navajo Skirt | About Us & Contact |
web site issues contact: jefry
all rights and content reserved, © Navajo Velvet LLC 2005 to present