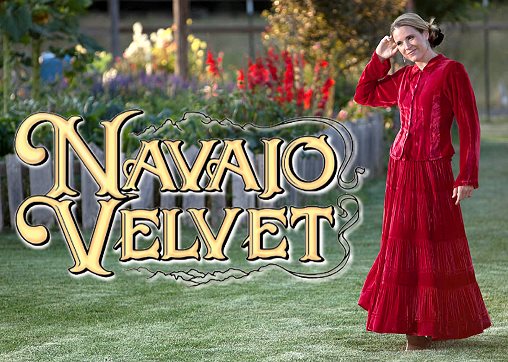 ~ Presents ~
Fine Ladies Clothing, Time Tested, Comfortable and Chic!

Go straight to our Clothing Page for description and details.
Desirable for women of all ages and sizes, our traditional Navajo Velvet skirt is customizable in three basic lengths.
We have also added to our line dusters, jackets, blouses, a stole and a few more skirts.
Navajo Velvet was established in 1980 out of a desire to honor the ageless beauty and enduring strength of Tribal Women. Navajo Velvet handcrafts each garment with attention to quality and detail displaying undisputed luxury with versatility. Our fine clothing is put together entirely in Rural America, all are garment washed and machine-dried on hot to prevent shrinkage. The care of your silk velvet will be easy, simply machine wash and dry, for the jewel like sparkle, steam iron.
Or you may dry clean any of our garments.
We believe our classic Navajo Velvet designs are the finest to be found.
Our choice of silk velvet creates a slim graceful silhouette in the drape, and makes available a large beautiful color selection. Our classic Navajo Skirt is authentically tiered, with bands of pin tucks and unmatched over all quality.
The prairie skirt fits all sizes, and works well with every age. It flows from a covered elastic waist band that slips on and stays comfortable, falling down to a soft rolled hem at the length of your choice. We allow for a one time waist and length adjustment, please talk to us when ordering to make sure of optimum sizing for the classic skirt.


Dress up your denim or compliment your dressy lace blouse, our Navajo Skirt transforms velvet from evening to everyday— providing women with timeless pieces that translate into every wardrobe and last for a lifetime, considered by some a cherished trophy.
Look for our illustrated 51 uses coming soon...

For our Navajo Skirts please click into our Colors Page for color, size and ordering info!
Or go straight to our Clothing Page for more styles and details, updates Oct. 1012.



Home | Clothing | Colors Page | Navajo Skirt | About Us & Contact | Links |


web site issues contact: jefry
all rights and content reserved, © Navajo Velvet LLC 2005 to present